Quick and easy, no paperwork. Contact with us
Siux – Head – Bullpadel – Vivora.
Siux – Head – Bullpadel – Vivora- Softee.
Selection of the best paddle bags, with the guarantee of the padel store webdepadel.com
SHOVELS
Siux – Starvie – Vivora – Head – Nox – Adidas
Paddle Shop
In the webdepadel.com store you have the most suitable padel bats for you.
Recommendations for buying a padel racket
Sometimes we find it difficult to choose the right padel racket, and that is why in our online padel store, we want to advise you with the best professionals. There are many points to look at when choosing the right paddle for you.
The main factors to take into account are: the budget we want to spend, our form and style of play, as well as the needs to improve it. We can be guided by the scores given by our experts in various blades or with our advice, and the opinion of the users of the web on blades.
Cheap paddles They are economic blades with important offers and discounts on their price, they can go from 30€, 60€ or blades with a slightly higher price but with discounts of up to 80% on the initial price, these cheap blades are always good opportunities to have a quality blade at a very low cost.

Beginners Paddles
Most of them are control paddles, oriented to improve the player's technique, from cheap paddles to higher level paddles, but ideal for players who are starting in this sport.

Medium level paddles
Here we move in a wide range of options, we have round, teardrop, hybrid or diamond. Complete blades that can give you enough control and power according to your game.
Advanced and competition paddles Here we are already in front of the high-end blades of each of the brands, regardless of the shape, are blades with the best materials of the moment, very complete and where you can find the one that offers the best control or power to finish points, complete blades that serves to attack and defend.
The best brands in this sport that offer paddle rackets
There are top brands in this sport that make the difference with their innovative models, new carbons, technologies applied to their new models, improving every year.
Star Vie paddle blades a reference with Spanish manufacturing, which has a wide catalog for all tastes and one of the brands with more presence in the World Padel Tour, with players fighting for the top positions in the ranking.
Adidas paddle blades that decided to invest in this sport a few years ago and bet strong, with large sponsorships and an outlay to manufacture high quality paddle blades.
Siux padel blades Siux has been having several models of blades as a reference of the best year after year, as the Siux Diablo Revolution or the Siux Pegasus. Also Spyder and Spartan models
A brand that was born and grew quickly, thanks to the good quality and great reception of the public with the Viper Mamba, Viper Yarara and Viper King Cobra.
Akkeron paddle blades is one of the brands with its own factory and that has been in Spain for more years, with technologies, molds and unique products that are updated every year.
Head paddle blades, this brand that is a benchmark in the sport worldwide, has always accompanied the paddle with great blades, such as the Head Alpha Pro of Sanyo Gutierrez.
Tips on how to choose a women's paddle
It should be made clear that padel bats are unisex, any padel bat can be useful for both girls and boys. But the main padel brands make specific models for women, the main feature is the aesthetics and colors. Normally they usually choose models of lower weights, more comfortable to use, but we found a wide catalog that offers power, control, comfort. Our recommendation is to look for the racket that best suits your game and not get carried away by aesthetics.
Padel shoes
Choosing the right padel shoes is just as important as choosing a good padel racket, there are several brands that stand out in this aspect, Asics usually offers shoes of all prices, the high-end have the best cushioning, soles that have great durability and excellent grip. Adidas, as it hates to be otherwise also offers a wide range of padel shoes for all players, with different soles, prices and qualities. Bullpadel and Head are other brands that also stand out in this complement.
Padel clothing
We have textile for the practice of this sport, t-shirts, sweatshirts, pants, skirts, dresses and outfits for men, women and children.
Paleteros
The best padel brands offer as an accessory to their padel rackets and backpacks that will serve us to carry padel rackets, shoes, clothes to change, pockets to store cell phones, wallet and keys while we play our game. Siux, Vibora, Star Vie, Bullpadel, Adidas, Head, Wingpadel, Orygen, Softee, are some of the top brands of the World Padel Tour circuit that offer us everything we need to practice this sport.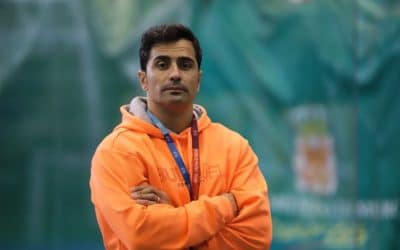 El crecimiento que tenga un deporte a nivel mundial va muy relacionado con lo involucrado que esta disciplina deportiva con el mundo de la web; en el mundo del pádel esta máxima se cumple cabalmente. Es por ello que en este post, haremos referencia al fenómeno...